By Ronan Alexander
It was well documented after the T20 World Cup that Bangladesh had a disappointing campaign to say the least, and that their batters didn't fire on all cylinders.
Their lack of intent and problem of losing too many wickets was clear to see. What has added to the issue is the lack of domestic batting talent coming through that could improve their side. When you look at the highest run scorers for the Bangladesh Premier League, it is dominated by overseas players. Four out of the top five are overseas batters.
The main reason for the lack of local high intensity knocks is due to the slow turning decks. However, this campaign, during five matches, one man has stood out massively. Munim Shahriar.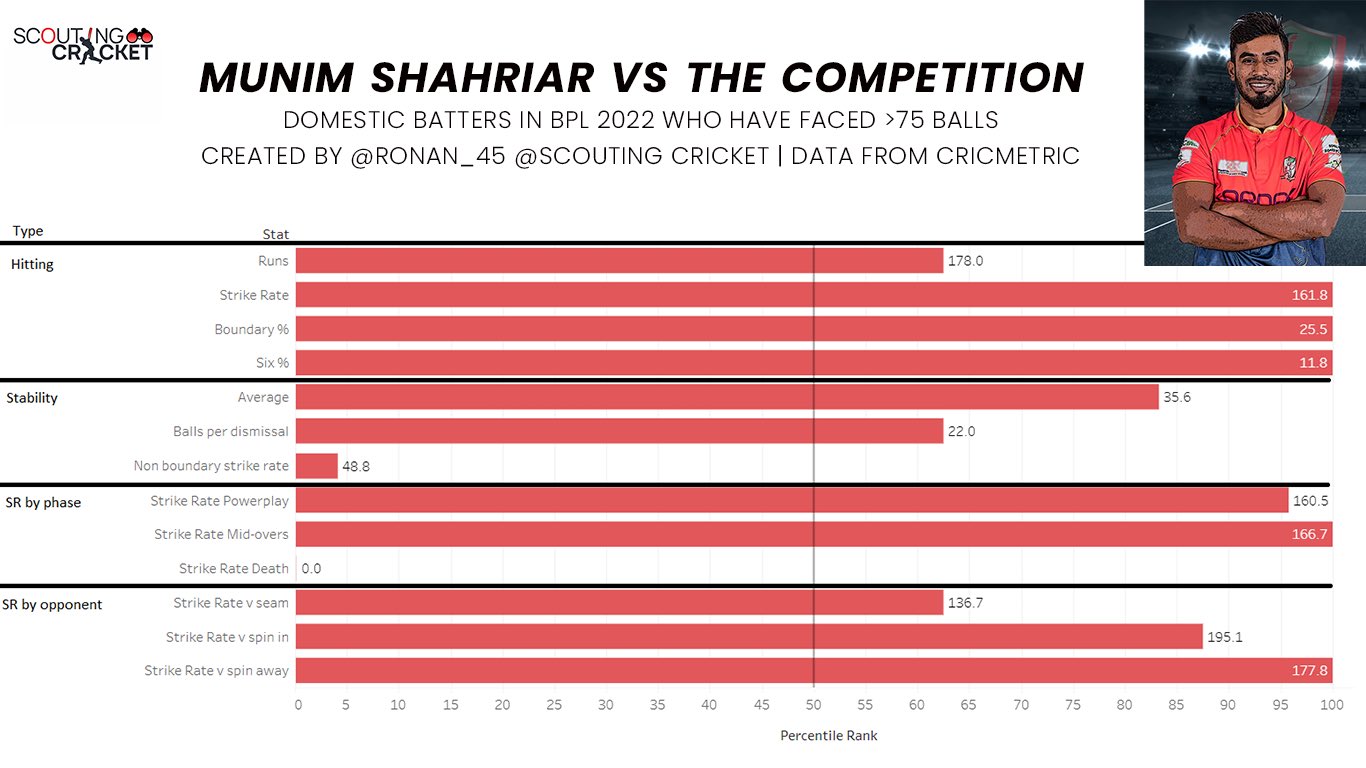 The 23-year-old right hand opener has 178 runs at an average of 35.6 and a 161.81 strike rate including 15 fours and 13 sixes. When looking at domestic batters who have faced more than 75 balls, the next highest strike rate is 146 from Shakib Al Hasan.
Shahriar has been a key reason why his side Fortune Barishal have made it to tomorrow's final. His boundary hitting is streets ahead of his nearest competitors, as is his strike rate during the powerplay.
This run of five games is no fluke either as Shahriar impressed in the Dhaka Premier League for Abahani Limited. He was the 11th top run scorer in the comp, amassing 355 runs at an average of 29.6 and had a strike rate of 143. Of the 10 players who had more runs than him, only one boasts a better strike rate. Nurul Hasan scored 389 runs, striking at 149.
Shahriar also represented Bangladesh Under 19's, so has some pedigree within the national setup.
During the T20 World Cup in 2021, Bangladesh hitting came under scrutiny, especially in the powerplay where Shahriar excels. The Tigers posted scores in the group stage of 41/1, 27/3, 29/2, 28/3 and 33/4. Their openers, Mohammad Naim (110), Liton Das (94) and Shakib Al Hasan (109), all had poor strike rates during the tournament, so Shahriar should come in to help rectify this.
Of course, he may find the step up to international cricket difficult, but with Bangladesh needing to play in the qualifying stage before reaching the main tournament, those fixtures could be exactly what he needs to help him settle in.
Bangladesh are yet to name their T20 squad for their upcoming series against Afghanistan. Munim Shahriar has to be there.
Buy a magazine: https://scoutingcricket.com/magazine/
Check out our podcast on Spotify & Apple Podcasts: https://scoutingcricket.com/podcasts/
Subscribe to or newsletter: https://scoutingcricket.substack.com/