Earlier this year we wrote about Sydney Thunder spin hitter Oliver Davies in issue 1 of our magazine. Today marked his return from injury and he hit Rashid Khan for a stylish and confident six over extra cover to show what he's all about. Here's what we wrote on him at the end of last years BBL.
Grab a magazine: https://scoutingcricket.com/magazine/
Profile
If Australia are looking for a number four in limited overs formats to come in as a spin[1]hitter, this is your man. Oliver Davies has a real swagger in his meaty ball striking, and his long wavy hair gives vibes of a young MS Dhoni back in the day.
He put his name on the map when he scored 207 from 115 deliveries as skipper of New South Wales Metro (Under 19's) against Northern Territory in their 50 0ver Championships. NSW posted 406/4 and Davies smashed 17 sixes (including six sixes in an over) and 14 fours on his way to a record breaking double ton.
Received international recognition at the Under 19 World Cup in 2020, and went on to play for Sydney Thunder, hitting the ground running in BBL10 with 36(22) on debut in a successful 152 run chase against Perth Scorchers. He then struck 48 against Melbourne Renegades, and was awarded man-of-the-match after hitting five consecutive sixes.
He recently played his part in New South Wales march to the Marsh Cup title in April, where he scored 144 runs in his four innings, with a top score of 57, striking at 123.07. Part of a region stacked with internationalists including Steve Smith, David Warner, Nathan Lyon, Pat Cummins, Josh Hazlewood, Mitchell Starc and Adam Zampa to name a few. A great upbringing and stepping stone for Davies coming through.
Check out our BBL Podcast…
Apple: https://podcasts.apple.com/gb/podcast/12-big-bash-league-focus/id1533695087?i=1000546521010
Spotify: https://open.spotify.com/episode/5bkOGwrqUYM5cydMF0YaNV?si=IR639_IgRP2g88dTerdhFA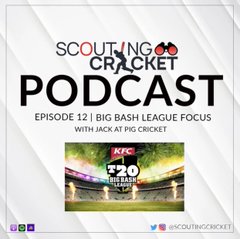 Technique & Style
As mentioned previously, he is especially destructive against spin bowlers and clearly favours the leg-side. Standing at 5ft 8in, he often gets on one knee against the spinners to get under the ball and loft it over the mid-wicket fence.
Going back to that knock of 207 for NSW Metro, the diagram below shows the areas where his sixes went (all leg-side). 14 out of the 17 sixes were against spin bowlers, only three against seam. 17 sixes – 5 long on, 9 mid-wicket, 3 square leg.
Looking at his 48 against Melbourne Renegades, of his five consecutive sixes, four were against Mohammad Nabi (off spin).
Although he has a small sample size due to his age and the few T20 matches he has played, there is clear potential to be regarded as a natural six hitter. So far, he has struck two fours and eight sixes, showing his early natural ability to clear the ropes and it will be interesting to see how this pattern progresses over the years.
Despite playing for the Aussies at the Under 19 World Cup, he had a disappointing tournament. Davies scored seven runs in his first four innings, but saved his campaign with 39(38) against West Indies in the fifth place play-off which ended as no result. All his boundaries in that knock came against spin, again showing that spin dominance.
Future Forecast
During the Marsh Cup, Davies was criticised by former Australia bowler Stuart Clark, after a soft dismissal against Tasmania. Riley Meredith bowled a ball into Davies' ribs, he backed away and nicked through to Aussie skipper Tim Paine. Clark then labelled the dismissal as "embarrassing" and that Davies looked "genuinely scared." Clark also commented that if he was a selector, it doesn't look good and he questioned how much Davies cares. It's also not a good look when it's the Australian captain behind the stumps completing the soft dismissal.
It may not look good to come out and openly slam a young player like that, but it may bring out the best in Davies and it will be interesting to see how he bounces back and reacts. It will test his character. The next match he played was the Marsh Cup final, and he scored 19, playing part in an important 45-run partnership with match winning centurion Jack Edwards who scored 108 in what was a relatively low scoring match. The criticism may also act as an early sign of a potential vulnerability against the short ball, or bowlers with an extra yard of pace. So, by identifying this at a young age – now gives him the chance to work on it and improve so that it doesn't become a recognised weakness.
Davies will be looking to continue playing to his strengths, clearing the ropes against spin bowlers, but at the same time, prove his critics wrong and improve against the quicks and short ball whilst adding consistency to his game across different formats. After going through a poor spell at the end of BBL10, he will have his work cut out to nail a regular spot at number four.
Check out our magazine and all players included: https://scoutingcricket.com/magazine/